This 1928 N-S-4 pumper was owned by South Saint Paul, Minnesota. It has the 998 cu. in. Fox "N" T head engine and a 750 gpm, 4 cylinder piston pump. The truck is unrestored, still wearing it's original paint and decoration except on the front fenders and hood.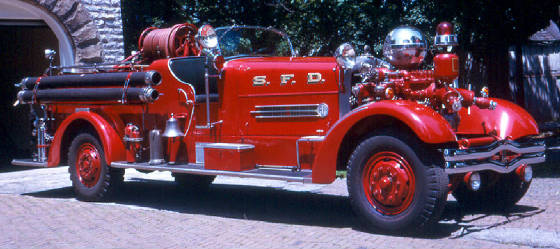 This 1928 Ahrens Fox HT served Sandusky, Ohio. It's Hercules HXE 6 cylinder engine displaces 935 cu. in. and it sports a 6 cylinder, 1000 gpm Fox pump. This truck is currently being restored in our shop, see other pages on this site
The famous "Dominoes" truck. A 1930 type 30-6-1 75' tillered wooden aerial, this truck was owned by Dominoes Pizza and painted accordingly. The truck is powered by a 1200 cu. in. "P" type Fox T head engine. It originally had solid rubber drive tires but was converted to duals after an accident in the 1940's. The two section wooden stick is raised by a Dahill air hoist.
The fourth Fox is a 1925 J-S-4 that belonged to Collinsville, IL. It was purchased in "kit form" and awaits restoration. It is similar to the N-S-4 at the top of this page.