Hercules Engine
The HXE was a widely used engine. 210 HP, 935 cu. in. 6 cylinder
Transmission countershaft with stripped 2nd gear
During our first drive after starting the truck, second gear made a terrible noise. After removing and disassembling the transmission we know why. The above picture of the countershaft shows the extensive damage to second gear, second from left. We're searching for a better countershaft but it's more likely this one will need to be repaired.
The rebuilt HXE engine mounted in the frame.
Major body and engine parts have been installed and the truck was driven outside!
The reassembly continues.
In July of 2009, the HT went home for a visit. On the way to Indianapolis for the national SPAAMFAA muster we stopped off and gave the active and retired FFs in Sandusky a chance to see their old truck. We also photographed it in various spots around town where it had been shot years ago. It was a great trip.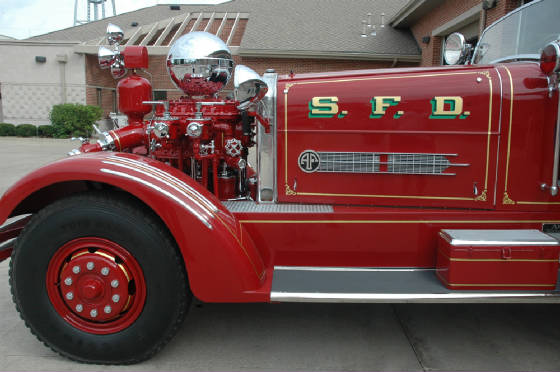 The HT on the ramp of Sandusky Station 1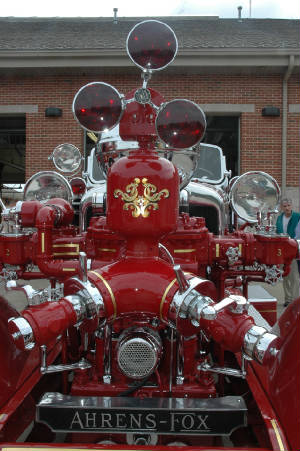 The pump.
The new trucks are truly huge. The HT was a big rig in it's day!
The nozzle on the back step was donated by Asst. Chief Mike Yost.
The HT crosses the finish line at the Indy 500 Speedway
The truck is a blast to drive. It has lots of power and, with no muffler, a great sound. Second gear is always a challenge but it'll run 65 mph on the radial tires we put on all day long. At the track they made us all go slow, but I did manage to zoom it up to 40 mph just after the photo was taken.
We've also pumped it several times. It flowed about 800 gpm at 1000 rpm through a deluge set, we're going to try it with a bigger tip next time but we'll have to secure a larger water supply!